Metallica: Through the Never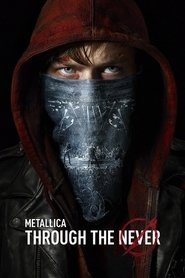 Sinopsis:
Bajo el nombre homónimo de la séptima canción de su disco 'The Black Album':Through The Never, dirigida por el cineasta Nimród Antal, será un largometraje grabado en 3D que pretenderá ir más allá del género documental de otras producciones recientes como U2 3D o Never Say Never, intentando innovar en nuevos conceptos que unan de forma coherente el mundo de la música y el del cine. En el filme veremos a los miembros del grupo: Lars Ulrich, James Hetfield, Kirk Hammett y a Robert Trujillo compartir reparto con el actor revelación Dane DeHaan (Chronicle), quien recientemente se ha incorporado al reparto de The Amazing Spider-Man 2, para interpretar el papel del multimillonario Harry Osborn.
Título original
Metallica Through the Never
Estrellas
Dane DeHaan, James Hetfield, Kirk Hammett, Lars Ulrich, Mackenzie Gray, Robert Trujillo, Toby Hargrave
Fecha de estreno
04 Oct 2013
Premios
1 win & 3 nominations.
Presupuesto
USD $18 000 000,00
Ingresos
USD $7 972 967,00
Estado de la película
Released
Conteo de votos en TMDb
166